Description
Inquiry
Attachment
Description
SIMCom A7676E 4G Module is a LTE450 & Cat 1 module with LTE-FDD/GSM/ GPRS/EDGE supporting LTE 450MHz frequency band and delivering max 10Mbps downlink rate and 5Mbps uplink rate.
SIMCom A7676E 4G Module Product Overview
SIMCom A7676E adopts LCC+LGA form factor and is compatible with SIM7000/SIM7070 series (NB/Cat M modules), and SIM800F (2G modules). So it enables smooth migration from 2G/NB/CAT-M products to LTE Cat 1 & 450Mhz products, and greatly facilitates more compatible product design for the customer needs. Moreover, the module supports multiple built-in network protocols and the drivers for main operation systems (USB driver for Windows, Linux and Android). In addition, A7676E also supports Dual SIM, VoLTE and GNSS* to adopt various usage scenario. Thanks to latest generation LTE Cat1 chipset, A7676E offers ultra-low power consumption and integrates abundant industrial standard interfaces with powerful expansibility, which is perfectly suitable for main IOT applications such as telematics, POS, surveillance devices, industrial routers, and remote diagnostics etc.
SIMCom A7676E 4G Module Product Pictures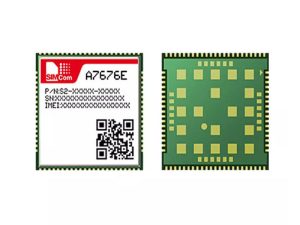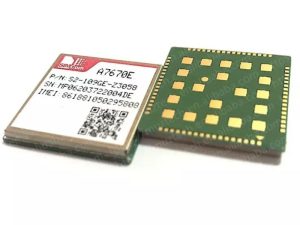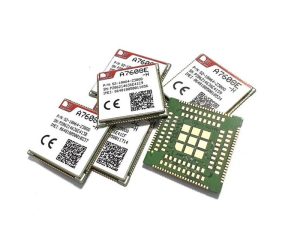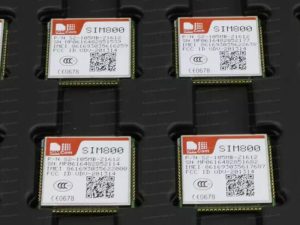 SIMCom A7676E 4G Module Product Specifications
Brand
SIMCom
Model
SIMCom A7676E
Form factor
 LCC+LGA
Frequency Bands
LTE-FDD B1/B3/B8/B20/B31/B72
GSM/GPRS/EDGE 900/1800 MHz
Supply Voltage
3.4V ~ 4.2V, Typ: 3.8V
Operation temperature
 -40℃ ~ +85℃
Dimensions
24*24*2.4mm
Weight
2.8±0.1g
Data Transfer
LTE Cat 1
Uplink up to 5Mbps
Downlink up to10Mbps
EDGE: Uplink/Downlink up to 236.8Kbps
GPRS: Uplink/Downlink up to 85.6Kbps
Interfaces
USB2.0 UART (U)SIM card(1.8V/3V )Analog audio
PCM ADCI2CGPIOAntenna: Primary / GNSS*
Other Features
USB Driver for Microsoft Windows 7/8/10
USB Driver for Linux /Android
RIL supporting for Android 5.0/6.0/7.0/8.0/9.0
Firmware update via USB/FOTA
TCP/IP/IPV4/IPV6/Multi-PDP/FTP/HTTP/DNS
RNDIS/PPP/ECM MQTT/MQTTS TLS1.2 LBS
Certifications
CE-RED#/RoHS#/REACH#
SIMCom A7676E 4G Module Product Features
Small size, rich interface, ultra-low power consumption
Supports dual SIM, VoLTE and GNSS functions (optional)
Rich software functions: FOTA, LBS, SSL
Form factor compatible with SIM7070E (LTE450 Cat M1 and NB2 modules)
SIMCom A7676E 4G Module Product And More Related Models
A7672G LCC+LGA
A7670E LCC+LGA
A7608SA-H LCC+LGA
A7676E LCC+LGA
A7672X LCC+LGA
A7682E LCC+LGA 85Pin
A7602X-H(E/SA) LCC+LGA 163Pin
A7600E-H LCC+LGA
A7600C1 LCC+LGA 119Pin
SIM7600G R2 LCC+LGA
SIM7600G-H R2 LCC+LGA
A7600E LCC+LGA
SIM7600X LCC/LCC+LGA 87/119Pin
SIM7500X LGA 56Pin
SIM7600X-H-PCIE Mini Pcie
SIM7600X-PCIE Mini Pcie
SIM7600X-H LCC/LCC+LGA 87/119Pin
SIM7600X-H-M2 M.2
SIM7500-PCIE Series Mini Pcie
SIMCom A7676E 4G Module Product Applications
Sorry, no attachment available !