Description
Inquiry
Attachment
Description
SIMCom SIM8970SA Smart Module is LTE Cat 6 module with Android system, Qualcomm 8-core 64-bit ARM V-8 processor, and frequency up to 2.0GHz and AdrenoTM 610 GPU.
SIMCom SIM8970SA Smart Module Product Overview
The module integrates wireless communication, short distance communication and multiple satellite positioning receiver function. MIMO technology is used to support LTE Cat 6 and 2 × 20MHz carrier aggregation. Moreover, it supports multiple communication modes such as GSM/GPRS/EDGE, WCDMA/HSPA+, LTE-FDD and LTE-TDD. Additionally, SIMCom SIM8970SA has abundant interfaces, and can be connected with camera, display screen, audio, sensors and other equipment. With smart module operation system and high performance advantage, the module is ideal for rapid development of multimedia wireless communication products and applications.
SIMCom SIM8970SA Smart Module Product Pictures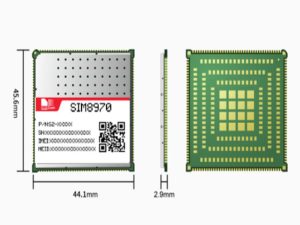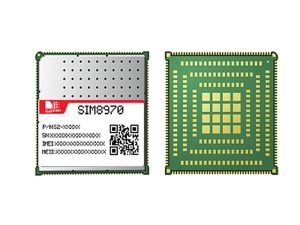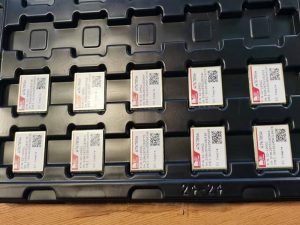 SIMCom SIM8970SA Smart Module Product Specifications
Brand
SIMCom
Model
SIM8970SA
Form Factor
LCC+LGA
Temperature Range
 -35℃ ~ +75℃
Dimensions(mm)
44.1*45.6*2.9mm
Weight
Approx. 13.5g
WLAN
2.4G /5G 802.11 a/b/g/n/ac
BT
BT 5.x BLE
GNSS
BeiDou/GPS/GLONASS
Frequency Bands
LTE-FDD:B2/B4/B5/B7/B12/B13/B14/B17/B25/B26/B66/B71
LTE-TDD:B41
WCDMA:B2/B4/B5
Media & Software Feature
USB Drive:Win7/Win8/Win10
Operating System:Android 10.1
Video encoding and decoding
Encode: 4K30 HEVC/H264/VP8/MPEG4
Decode:4K30 8-bit: H.264/VP8/VP9 4K30 10-bit: HEVC
Wireless display(decode + encode):
4Kp30 Dec + 1080p30 Enc Audio encoding and decoding:
G.711, G.729A/AB; EVRC, EVRC-B, EVRC-WB;
AMR-NB, AMR-WB, AMR-eAMR, AMR-BeAMR; GSM-EFR/-FR/-HR;
MP3; AAC; He-AAC v1, v2; WMA 9/Pro;
Dolby AC-3, eAC-3, DTS-HD, FLAC, APE, ALAC, AIFF
Firmware Upgrade:USB/OTA/TF card
Interface
4-lane MIPI_DSI FHD 2520 * 1080 @ 60fps DP over USB Type-C for Dual Independent Display
Capacitive Touch Panel USB:Compliant with USB 3.1/2.0
Camera:3 groups of Mipi_ CSI Combined dphy 1.2 / cphy 1.0 Configurable to 3 or 4 cameras up to 25MP pixels
Audio:2 channel digital mic interface 3 channel analog audio input & output 4 digital microphones
UART:*6 I2C:*9 SPI: *4 ADC: *2 GPIO: >=*40 Charging: QC3.0
UIM Card:*2, dual cards dual standby Antenna: Main & Diversity & GNSS & Wi-Fi/BT
Data
LTE:50Mbps(UL) 300Mbps(DL)
HSPA+:5.76Mbps(UL) 42 Mbps (DL)
UMTS:384Kbps(UL/DL)
EDGE:236.8Kbps(UL/DL)
GPRS:85.6Kbps (UL/DL)
Certifications
RoHS*/REACH*CE*
SIMCom SIM8970SA Smart Module Product Features
Cat 6 / Wi-Fi / BT
Support 4K@30fps video recording and playing
Built in charging management function, supporting QC3.0
Integrate GNSS function, supports rapid accurate positioning under different environment
4-lane MIPI_ DSI(up to 2520*1080 @60fps) and DP over USB Type-C for Dual Independent Display
Can carry 4 cameras. The main camera can support up to 25MP pixels, and the secondary camera can support up to 16MP pixels
SIMCom SIM8970SA Smart Module and More Modules
SIM8970EU LCC+LGA
SIM8970NA LCC+LGA
SIM8918CE LCC+LGA
SIM8918E LCC+LGA
SIM8918EA LCC+LGA
SIM8970SA LCC+LGA
SIM8970EU LCC+LGA
SIM8960X LCC+LGA
SIM8905X LCC+LGA 210Pin
SIM8950X LCC+LGA 232Pin
SIMCom SIM8970SA Smart Module Product Applications
Sorry, no attachment available !