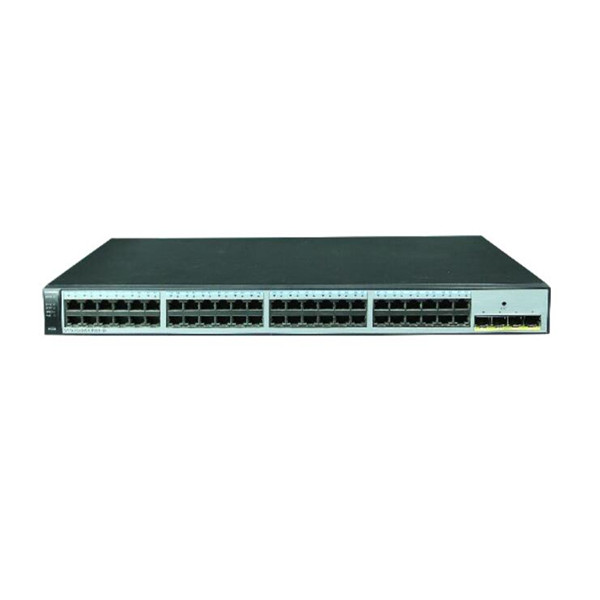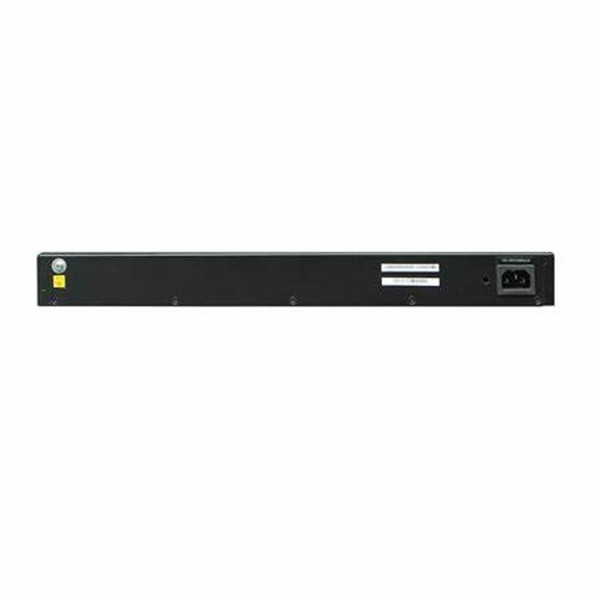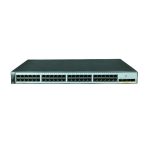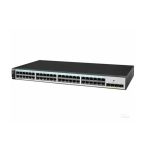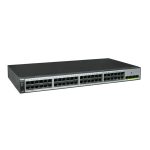 Huawei S1720-52GWR-4P-E Switch
Description
Inquiry
Attachment
Description
Huawei S1720-52GWR-4P-E Switch is a next-generation energy-saving Ethernet access switch designed for small and medium-sized enterprises, Internet cafés, hotels, and schools. It offers Downlink: 48 Ethernet 10/100/1,000 ports, Uplink: 4 Gig SFP ports and AC power supply
Huawei S1720-52GWR-4P-E Switch Product Overview
The switch provides forwarding performance: 78 Mpps and switching Capacity: 336 Gbit/s. S1720 series web-managed and fully-managed switches support Enhanced Media Delivery Index(eMDI). It functions as a monitoring node to periodically collect and report eMDI fault data to eSight, and then eSight quickly locates video service quality faults based on monitoring results of multiple nodes. The device can also report eMDI fault data to the campus network analyzer CampusInsight for intelligent diagnosis of video services. In addition, S1700 series switches are easy to install and maintain and come with diverse service features, helping customers build secure, reliable, high-performance networks. S1700 series consists of unmanaged switches, web-managed switches, and fully-managed switches
Huawei S1720-52GWR-4P-E Switch Product Pictures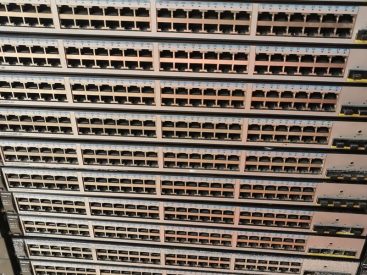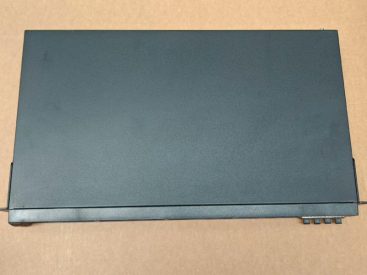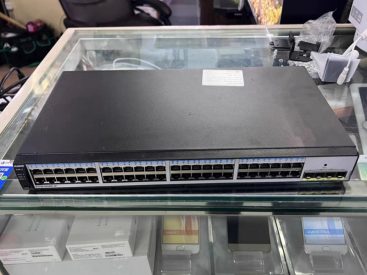 Huawei S1720-52GWR-4P-E Switch Product Specifications
Product Model
S1720-28GWR-4P-E
S1720-28GWR-PWR-4P-E
S1720-28GWR-PWR-4TP-E
S1720-28GWR-4X-E
S1720-28GWR-PWR-4X-E
S1720-52GWR-4P-E
S1720-52GWR-PWR-4P-E
S1720-52GWR-4X-E
S1720-52GWR-PWR-4X-E
Device Management
SNMP
Web system network management (HTTPS)
DHCP client
User password protection
One-key restoration
CLI configuration (S1720GWE, S1720GWR-E, and S1720X-XWR-E series)
Switching Capacity
S1720-28GWR-P/TP series: 68 Gbit/s
S1720-28GWR-X series: 168 Gbit/s
S1720-52GWR-P series: 336 Gbit/s
S1720-52GWR-X: 336 Gbit/s
Forwarding Performance
S1720-28GWR-P/TP series: 42 Mpps
S1720-28GWR-X series: 96 Mpps
S1720-52GWR-P series: 78 Mpps
S1720-52GWR-X series: 132 Mpps
Fixed Ports
S1720-28GWR-P series
Downlink: 24 x 10/100/1,000 Base-T electrical ports
Uplink: 4 x 1,000 Base-X optical ports
S1720-28GWR-TP series
Downlink: 24 x 10/100/1,000 Base-T electrical ports
Uplink: 4 x 1,000 Base-X optical ports, 2 of which are 10/100/1,000 Base-T combo ports
S1720-28GWR-X series
Downlink: 24 x 10/100/1,000 Base-T electrical ports
Uplink: 4 x 10G Base-X optical ports
S1720-52GWR-P series
Downlink: 48 x 10/100/1,000 Base-T electrical ports
Uplink: 4 x 1,000 Base-X optical ports
S1720-52GWR-X series
Downlink: 48 x 10/100/1,000 Base-T electrical ports
Uplink: 4 x 10G Base-X optical ports
VLAN Features
4K VLANs
Access port
Trunk port
Hybrid port
Management VLAN
Voice VLAN
IP Routing
IPv4 and IPv6 static routing
RIP, RIPng, and OSPF (S1720-E series)
Device Maintenance
Remote Network Monitoring (RMON)
"System log
Ping and traceroute
Virtual Cable Test (VCT)
Link Layer Discovery Protocol (LLDP) "
Huawei S1720-52GWR-4P-E Switch Product Features
S1700, S1720 MAC address table supports up to 8k/16k of MAC addresses, making it easy to expand networks and deploy new services. The S1700 supports layer 3 static routing-forwarding which include IPv4 and IPv6 protocols.
The models that support PoE support the perpetual PoE technology to deliver uninterrupted PoE power supply. This capability ensures that PDs are not powered off during switch reboot, eliminating fault-triggered interruptions.
S1700 is easy to manage and maintain, equipped with a one-key operation button on the front panel.
Web-managed S1700 models come with a web network management system, making it easy to configure switches.
Fully-managed S1700 models allow for the use of an Simple Network Management Protocol (SNMP)-based Network Management System (NMS) for centralized configuration and management.
Huawei S1720-52GWR-4P-E Switch Product and More Models
S1720-10GW-2P-E (8 Ethernet 10/100/1,000 ports, 2 Gig SFP, with license, AC 110/220V)
S1720-10GW-PWR-2P-E (8 Ethernet 10/100/1,000 PoE+ ports, 2 Gig SFP, with license, AC 110/220V)
S1720-28GWR-4P-E (24 Ethernet 10/100/1,000 ports, 4 Gig SFP, with license, AC 110/220V)
S1720-28GWR-4X-E (24 Ethernet 10/100/1,000 ports, 4 10 Gig SFP+, with license, AC 110/220V)
S1720-28GWR-PWR-4P-E (24 Ethernet 10/100/1,000 ports, 4 Gig SFP, PoE+, with license, 370W POE AC 110/220V)
S1720-28GWR-PWR-4X-E (24 Ethernet 10/100/1,000 ports, 4 10 Gig SFP+, PoE+, with license, 370W POE AC 110/220V)
S1720-52GWR-4P-E (48 Ethernet 10/100/1,000 ports, 4 Gig SFP, with license, AC 110/220V)
S1720-52GWR-4X-E (48 Ethernet 10/100/1,000 ports, 4 10 Gig SFP+, with license, AC 110/220V)
S1720-52GWR-PWR-4P-E (48 Ethernet 10/100/1,000 ports, 4 Gig SFP, PoE+, with license, 370W POE AC 110/220V)
S1720-52GWR-PWR-4X-E (48 Ethernet 10/100/1,000 ports, 4 10 Gig SFP+, PoE+,with license,370W POE AC 110/220V)
S1720-28GWR-PWR-4TP-E (24 Ethernet 10/100/1,000, 2 Gig SFP and 2 dual-purpose 10/100/1,000 or SFP, 8 ports PoE+, with license, 124W POE AC, front access)
S1720X-16XWR-E (16 10Gig SFP+, with license, AC110/220V)
S1720X-32XWR-E (32 10Gig SFP+, with license, AC110/220V)
Huawei S1720-52GWR-4P-E Switch Product Applications