Description
Inquiry
Attachment
Description
OptiXstar P812E FTTH is XGS-PON uplink with 4 GE ports and 1 2.5GE port and PoE/PoE+ function designed for scenarios such as enterprise campus and video backhaul
OptiXstar P812E FTTH Product Overview
OptiXstar P812E FTTH is an ONU device designed for scenarios such as enterprise campus and video backhaul. It supports XGS-PON uplink, and can provide 4 GE ports and 1 2.5GE port. The PoE/PoE+ function satisfies the flexible power supply of the equipment and provides Users bring high-quality voice, data and high-definition video service experience.
OptiXstar P812E FTTH Product Picture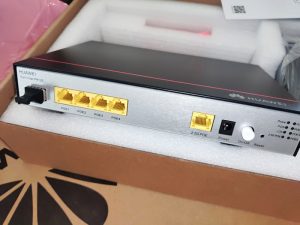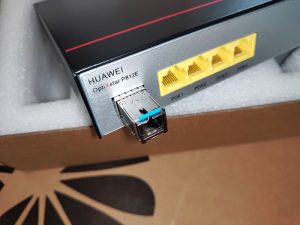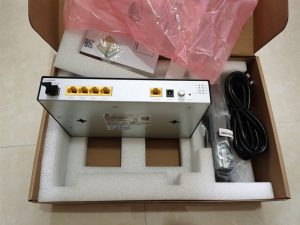 OptiXstar P812E FTTH Product Specifications
Model
OptiXstar P812E
Dimensions (H x W x D)
35 x 220 x 150 mm (without floor mat)
Weight
Approximately 1030 g
Operating Temperature
–5°C to 45°C
Operating Humidity
5% to 95% RH (non-condensing)
Power Adapter Input
100-240 V AC, 50/60 Hz
System Power Supply
56 V DC, 1.42A
NNI
1 x XGS-PON 4 x GE and 1 x 2.5 GE supports PoE/PoE
Static Power Consumption
8.5 W
Maximum PoE Output Power
Gross power 60 W (up to 30 W per GE port)
Maximum Power Consumption
12 W (PoE port without PD)
78 W (PoE port with PD at maximum power consumption)
Surge Protection
GE: common mode 4 kV; differential mode 0.5 kV
AC power: common mode 6 kV; differential mode 6 kV
Installation Mode
Supports indoor desktop installation, wall mounting, or network box installation
OptiXstar P812E FTTH Product Features
XGS-PON optical module, interface type: SC/UPC
Class N1/N2
Receive sensitivity: -28dBm
Overload optical power: -9dBm
Transmission rate: downlink 9.953 Gbit/s, uplink 9.953 Gbit/s
Type B single ownership
Type B dual-homing (supported in Layer 2 forwarding mode)
Support PoE, PoE+ function; follow the standard: IEEE 802.3af, IEEE 802.3at
Interface type: RJ-45
GE interface: 10/100/1000 Mbit/s interface rate adaptation
5GE interface: 100/1000/2500 Mbit/s interface rate adaptive
MDI/MDIX auto configuration
MAC address learning number configuration
VLAN transparent transmission and filtering based on Ethernet port
OptiXstar P812E FTTH and More Series Models
OptiXstar B850
OptiXstar P602E
OptiXstar P603E
OptiXstar P612E
OptiXstar P613E
OptiXstar P622E
OptiXstar P670E
OptiXstar P802E
OptiXstar P803E
OptiXstar P805E
OptiXstar P812E
OptiXstar P813E
OptiXstar P815E
OptiXstar P871E
OptiXstar S800E
OptiXstar S890H
OptiXstar S892E
OptiXstar P812E FTTH Product Applications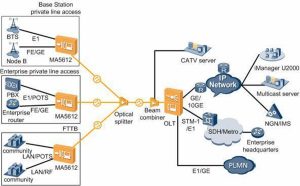 Sorry, no attachment available !