Cat 1 technology is evolving rapidly
In the era of the Internet of Everything, the premise of all IoT-based innovation is "connection", and the connection technology required for different application scenarios is different. With the alternation of new and old technologies, industry user needs and scenarios becoming more segmented, the medium-rate market between high-rate and low-rate scenarios is booming.
Faced with the special needs of some special industries with low and medium speeds, ultra-stable connections, and low costs, how to choose the appropriate connection technology from multiple dimensions such as speed, cost, network coverage, and technology maturity? Become a question that the IoT industry needs to think about.
Medium-rate market demand accounts for 30% 4G LTE plays a heavy role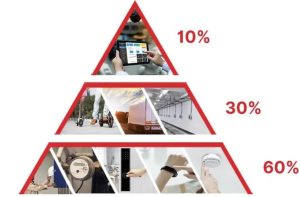 Research data shows that in the distribution of cellular IoT connections, 60% of scenarios require narrowband networks to provide "low-rate" connections, about 10% require "high-rate" connection services, and the remaining 30% of IoT scenarios require "medium-rate" connection services.
Currently, cellular connectivity technology is in a window of alternation between old and new. On October 22, 2019, Wen Ku, director of the Department of Information and Communication Development of the Ministry of Industry and Information Technology, clearly stated that the withdrawal of 2G and 3G is an inevitable choice for the replacement of mobile communications, and it is also the main practice of various countries in the world. At present, the conditions for China's mobile communication network 2G and 3G withdrawal have gradually matured.
It is foreseeable that after the withdrawal of 2G/3G in the future, the remaining cellular network connection technologies will play their respective roles in various scenarios of the Internet of Things.
IoT technology based on 4G/5G (NB-IoT + 4G + 5GNR) will gradually replace the original 2G/3G IoT technology, and provide greater bandwidth, lower latency, and deeper coverage, truly opening the era of the Internet of Everything in thousands of industries – 5G will assume high-rate scenarios with large bandwidth and extremely demanding latency requirements.
With its characteristics of wide coverage, low power consumption, low cost, and large connectivity, NB-IoT will meet the requirements of large-scale narrowband and low-rate scenarios and be applied in scenarios with small data volume and small rate such as smart meter reading.
With the withdrawal of 3G in the future, 4G LTE and eMTC will be able to carry mainly voice-oriented and medium-rate scenarios, but because domestic operators are not active in eMTC, and the eMTC industry chain is not open and robust enough, it is difficult for eMTC to achieve network construction in China in the short term, so 4G LTE will undertake the heavy responsibility of speed connection scenarios in the Internet of Things.
According to the latest research data from market research institute Counterpoint Research, global IoT cellular connections are expected to exceed the 5 billion mark by 2025, and China will continue to lead the world with nearly two-thirds of the number of connections. 4G LTE IoT connectivity will account for more than one-third of global IoT cellular connections.
Special needs in sub-sectors LTE Cat 1 stands out
However, while 4G LTE will play an important role in cellular IoT connectivity, even in mid-rate scenarios, the needs of different industry segments vary.
In particular, industry applications such as public network intercom, sharing economy, financial payment, wearable/tracking, smart energy, and industrial control that have high requirements for module cost, power consumption, communication delay and other capabilities, but are less sensitive to speed, also require connection technologies that are more suitable for these specific scenarios.
Broadly speaking, LTE Cat 4 can be supported by Cat 1 and Cat 4 in LTE connected IoT, where LTE Cat 4 supports high speed and low latency and has excellent network coverage, but is not suitable for the above industry applications that do not require high speed, but are sensitive to delay and cost, so the opportunity of LTE Cat.1 has come.
Advantage 1: Global coverage and mature network. The 4G network that has been in commercial use for many years has basically achieved global coverage, fully covering the major operator network frequency bands in Asia, Europe, the Americas and other regions, and Cat 1 can also provide Internet of Things users with anytime, anywhere access with the construction of 4G network infrastructure.
Since the global 4G LTE operators are deployed based on the minimum 3GPP Release 8 protocol version, operators do not need to upgrade the network, and only simple parameter configuration can allow Cat 1 terminals to access the network. In China, by the end of 2019, the total number of 4G base stations in China has reached 5.44 million.
Advantage 2: Better network and more complete functions. Compared with NB-IoT's slightly deficiencies in voice, SMS, connection timeliness, cell switching, etc., Cat 1 supports a terminal downlink rate of up to 10Mbps and an uplink rate of 5Mbps, which can achieve higher-performance connections and sum< lower latency of 100ms.
Advantage 3: Lower cost and high cost performance. Although the Cat 4 rate of up to 50Mbps uplink and 150Mbps downlink is higher, the current mainstream Cat 4 is difficult to meet the needs of IoT applications in some industries in terms of power consumption, integration, and price, and Cat 1 takes into account the advantages of standard, performance, power consumption, and cost, especially the cost is nearly 30% lower than that of Cat 4.
Is the industry chain ready?
From the perspective of technology selection, there is no best technology, only technology that is more suitable for the needs of some specific scenarios, obviously Cat 1 is more suitable for those LTE IoT network connection requirements that do not require high network speed, but require stable and reliable, and low cost.
But whether Cat 1 can finally be laid, the support of the chip module is very critical. As the world's leading IoT module supplier, Quectel has launched EX2x and EG9x two series of Cat 1 modules, including EC21, EC21 Mini PCIe, EG21-G, EG21-G Mini PCIe, EG91 and other LTE Cat 1 communication modules designed for M2M and IoT fields.
In the near future, Quectel will continue to launch new Cat 1 communication module products such as EC200S-CN and EC100Y-CN, and plans to launch new communication modules in various regions around the world in Q2 2020, which will further enrich the Cat 1 module portfolio.
With a rich product planning portfolio, good packaging compatibility for different technical standards, comprehensive technical services, global coverage support, global certification and recognition, and mature delivery capabilities, Quectel has shipped more than 5 million units in the global LTE Cat 1 module market, demonstrating the reliable maturity of this series of module products.