Description
Inquiry
Attachment
Description
Huawei S1700-52GR-4X Switch is a next-generation energy-saving Ethernet access switch with Downlink: 48 Ethernet 10/100/1,000 ports, Uplink: 4 10 Gig SFP+ and AC power supply
Huawei S1700-52GR-4X Switch Product Overview
The product provides Forwarding performance: 132 Mpps and Switching Capacity: 336 Gbit/s. It is ideal for small to medium-sized businesses, Internet cafes, hotels, schools, and others. Huawei S1700-52GR-4X is easy to install and maintain and provide rich services, helping customers build secure, reliable, and high-performance networks.
Depending on management types, S1700 series switches are classified into unmanaged switches, web-managed switches, and fully-managed switches. Unmanaged switches are plug-and-play and do not require installation of any software. They have no configuration options and do not need subsequent management.
The S1720 series web-managed and fully-managed switches support enhanced Media Delivery Index (eMDI). The S1720 functions as a monitoring node to periodically collect and report eMDI fault data to eSight, and then eSight quickly locates video service quality faults based on monitoring results of multiple nodes
Huawei S1700-52GR-4X Switch Product Pictures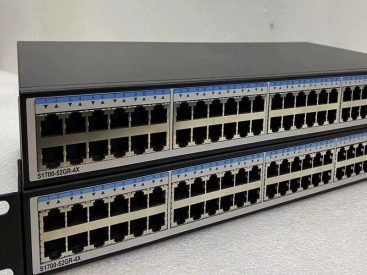 Huawei S1700-52GR-4X Switch Product Specifications
Product Model
S1700-28GR-4X
S1700-52GR-4X
S1700-16G
S1724G-AC
S1700-24GR
S1700-24-AC
S1700-52R-2T2P-AC
Switching Capacity
S1700-28GR-4X: 168 Gbit/s
S1700-52GR-4X: 336 Gbit/s
S1700-16G: 32 Gbit/s
S1724G-AC: 48 Gbit/s
S1700-24GR: 48 Gbit/s
4.8 Gbit/s
17.6 Gbit/s
Forwarding Performance
S1700-28GR-4X: 96 Mpps
S1700-52GR-4X: 132 Mpps
S1700-16G: 24 Mpps
S1724G-AC: 36 Mpps
S1700-24GR: 36 Mpps
3.6 Mpps
13.2 Mpps
Port Type
1,000M access, 10 GE Uplink
GE Uplink and Downlink
100M Uplink and Downlink
100M access, 1,000M Uplink
Fixed Ports
S1700-28GR-4X
Downlink: 24 x 10/100/1,000 Base-T ports
Uplink: 4 x 10G Base-X optical ports
S1700-52GR-4X
Downlink: 48 x 10/100/1,000 Base-T ports
Uplink: 4 x 10G Base-X optical ports
S1700-16G: 16 x 10/100/1,000 Base-T ports
S1724G-AC: 24 x 10/100/1,000 Base-T ports
S1700-24GR: 24 x 10/100/1,000 Base-T ports
Note: These ports can be used for both upstream and downstream transmission.
24 x 10/100 Base-T ports
Note: These ports can be used for both upstream and downstream transmission.
Downlink: 48 x 10/100 Base-T ports
Uplink: 2 x 10/100/1,000 Base-T ports and 2 x 1,000 Base-X optical ports
Huawei S1700-52GR-4X Switch Product Features
S1700 is easy to manage and maintain, equipped with a one-key operation button on the front panel.
Web-managed S1700 models come with a web network management system, making it easy to configure switches.
Fully-managed S1700 models allow for the use of an Simple Network Management Protocol (SNMP)-based Network Management System (NMS) for centralized configuration and management.
Fully-managed S1720 models can support Command Line Interface (CLI) configuration.
S1720 series web-managed and fully-managed switches support enhanced Media Delivery Index (eMDI). The S1720 functions as a monitoring node to periodically collect and report eMDI fault data to eSight, and then eSight quickly locates video service quality faults based on monitoring results of multiple nodes.
Huawei S1700-52GR-4X Switch and More Models
S1700-16G (16 Ethernet 10/100/1,000 ports, AC 110/220V)
S1700-24-AC (24 Ethernet 10/100 ports, AC 110/220V)
S1724G-AC (24 Ethernet 10/100/1,000 ports, AC 110/220V)
S1700-24GR (24 Ethernet 10/100/1,000 ports, AC 110/220V)
S1700-52R-2T2P-AC (48 Ethernet 10/100 ports, 2 Ethernet 10/100/1,000 ports and 2 Gig SFP, AC 110/220V)
S1700-52GR-4X (48 Ethernet 10/100/1,000 ports, 4 10 Gig SFP+, AC 110/220V)
S1700-28GR-4X (24 Ethernet 10/100/1,000 ports, 4 10 Gig SFP+, AC 110/220V)
S1720-10GW-2P (8 Ethernet 10/100/1,000 ports, 2 Gig SFP, AC 110/220V)
S1720-10GW-PWR-2P (8 Ethernet 10/100/1,000 PoE+ ports, 2 Gig SFP, AC 110/220V)
S1720-28GWR-4P (24 Ethernet 10/100/1,000 ports, 4 Gig SFP, AC 110/220V)
S1720-28GWR-4X (24 Ethernet 10/100/1,000 ports, 4 10 Gig SFP+, AC 110/220V)
S1720-28GWR-PWR-4P (24 Ethernet 10/100/1,000 PoE+ ports, 4 Gig SFP, 370W POE AC 110/220V)
S1720-28GWR-PWR-4X (24 Ethernet 10/100/1,000 PoE+ ports, 4 10 Gig SFP+, 370W POE AC 110/220V)
S1720-52GWR-4P (48 Ethernet 10/100/1,000 ports, 4 Gig SFP, AC 110/220V)
S1720-52GWR-4X (48 Ethernet 10/100/1,000 ports, 4 10 Gig SFP+, AC 110/220V)
S1720-52GWR-PWR-4P (48 Ethernet 10/100/1,000 PoE+ ports, 4 Gig SFP, 370W POE AC 110/220V)
S1720-52GWR-PWR-4X (48 Ethernet 10/100/1,000 PoE+ ports, 4 10 Gig SFP+, 370W POE AC 110/220V)
S1720-28GWR-PWR-4TP (24 Ethernet 10/100/1,000, 2 Gig SFP and 2 dual-purpose 10/100/1,000 or SFP, 8 ports PoE+, 124W POE AC)
Huawei S1700-52GR-4X Switch Product Applications