Description
Inquiry
Attachment
Description
Huawei S6730-S24X6Q Switch is a new generation of 10 Gigabit box switch with 24 x 10 Gig SFP+, 6 x 40 Gig QSFP Dual pluggable power modules Forwarding performance: 300Mpps and Switching capacity: 2.4 Tbit/s
Huawei S6730-S24X6Q Switch Product Overview
Huawei S6730-S24X6Q Switch is a new generation of 10 Gigabit box switch with 24 x 10 Gig SFP+, 6 x 40 Gig QSFP Dual pluggable power modules Forwarding performance: 300Mpps and Switching capacity: 2.4 Tbit/s. The product provides 10 GE downlink ports as well as 40 GE uplink ports. They can be used to provide high-speed access for Wi-Fi 6 APs and 10 Gbit/s access to high-density servers or function as core/aggregation switches on a campus network to provide a rate of 40 Gbit/s. With VXLAN-based virtualization, comprehensive security policies, and various QoS features, CloudEngine S6730-S24X6Q can help the clients build scalable, reliable, and secure campus and data center
Huawei S6730-S24X6Q Switch Product Picture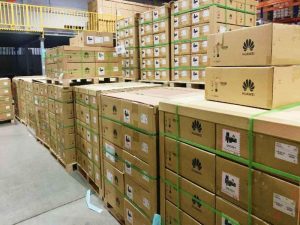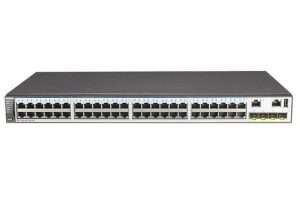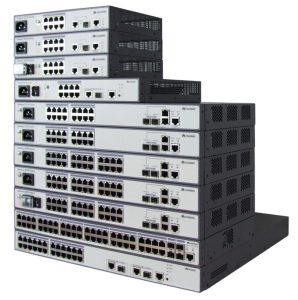 Huawei S6730-S24X6Q Switch Product Specifications
Item
CloudEngine S6730-S24X6Q
Fixed ports
24 x 10 Gig SFP+, 6 x 40 Gig QSFP
Dimensions (W x D x H)
442 mm x 420 mm x 43.6 mm
Chassis height(U)
1U
Input voltage
Rated AC voltage: 100V to 240V AC; 50/60 Hz
Max. AC voltage: 90V to 290V AC; 45–65 Hz
Input current
AC 600W:Max 8A
Maximum power consumption
231W
Minimum power consumption
97W
Operating temperature
0–1800 m altitude: -5°C to 45°C
1800–5000 m altitude: The operating temperature reduces by 1°C every time the altitude increases by 220 m.
Storage temperature
-40-70℃
Operating altitude
5000 m
Noise (sound pressure at normal temperature)
52dB(A)
Surge protection specification
AC power interface: differential mode: ±6kV: common mode: ±6kV
Power supply type
600W AC Power
Relative humidity
5% to 95% (non-condensing)
Fans
4 , Fan modules are pluggable.
Heat dissipation
Heat dissipation with fan, intelligent fan speed adjustment
Huawei S6730-S24X6Q Switch Product Features
Smart upgrade
Based on Huawei's online upgrade platform (HOUP), this series of switches supports intelligent upgrades. The version upgrade path is obtained from HOUP and the new version is upgraded. The upgrade process is highly automated, and the one-click upgrade is truly implemented. The pre-loaded version is supported and the upgrade is greatly shortened. Time, reducing the time of business interruption.
Make the network more agile for business
This series of switches have a high-speed and flexible processor chip. It is designed for Ethernet-specific design. With its flexible packet processing and flow control capabilities, it is close to the business, meeting the challenges of the present and the future, and helping customers build a flexible and extended network.
OPS open programmable system
OPS (Open Programmability System) is an open programmable system based on Python language. IT administrators can program the operation and maintenance functions of switches through Python scripts to quickly realize functional innovation and realize intelligent operation and maintenance.
Huawei S6730-S24X6Q Switch Product Ordering Info
| | |
| --- | --- |
| Model | Product Description |
| CloudEngine S6730-S24X6Q | CloudEngine S6730-S24X6Q(24 x 10 Gig SFP+, 6 x 40 Gig QSFP. equipped power modules by default not available) |
| PAC-600S12-CB | 600W AC power module |
Huawei S6730-S24X6Q Switch Product Applications
Sorry, no attachment available !