Description
Inquiry
Attachment
Description
HG8247H5 FTTH is optical terminal Unit with 4GE + 1VOICE + WIFI + CATV firmware SIP developed by Huawei
HG8247H5 FTTH Product Overview
HG8247H5 FTTH provides four GE ports, one POTS ports, one CATV port, one USB port, and supports 2.4G Wi-Fi. The ONT features high-performance forwarding capabilities to ensure an excellent experience with VoIP, Internet, and HD video services. These features make the EG8247H5 a perfect option for broadband access.
HG8247H5 FTTH Product Pictures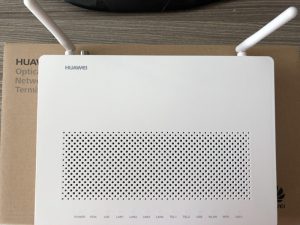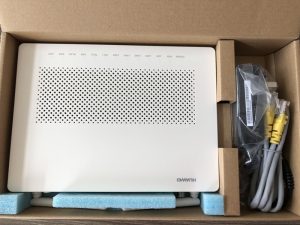 HG8247H FTTH Specifications
| | |
| --- | --- |
| Model | HG8247H5 |
| Type | Routing |
| Dimensions (H x W x D) | 199 mm x 135 mm x 30 mm (without antenna and pads) |
| Operating Temperature | 0°C to 40°C |
| Operating Humidity | 5% RH to 95% RH (non-condensing) |
| Power Adapter Input | 100V to 240V AC, 50 Hz/60 Hz |
| System Power Supply | 11V to 14V DC, 1A |
| Network-Side Ports | GPON |
| User-Side Ports | 1POTS + 4 GE + CATV + 2.4G Wi-Fi + 1 USB |
| Indicators | POWER, PON, LOS, LAN1, LAN2, LAN3, LAN4, TEL, USB, WLAN, and WPS |
HG8247H5 FTTH Product Features
Supports configuring the global profile and issuing the XML configuration file on the NMS. To provision ONT services in batches and adjust the network, only a few changes are required.
Supports user-defined upgrade policies configured through the NMS. The device is automatically upgraded after being powered on and no manual operation is required.
Supports remote performance management of the HG8247 through the NMS. By collecting. the performance data, the network performance exception can be monitored in real-time.
Supports remote fault locating of the HG8247 through the NMS. Through alarm reporting and remote loopback diagnosis, the fault can be located remotely, which decreases the maintenance cost.
HG8247H5 FTTH and more Models
HG8010C        1FE
HG8040  4FE
HG8110  1POTS+1FE
HG8110C        1POTS+1FE
HG8120  1POTS+2FE
HG8120  2FE+1POTS
HG8240C/F/R 2POTS+4FE
HG8242  2POTS+4GE+1CATV
HG8245  2POTS+4FE+USB+WiFi
HG8245C/F/R 2POTS+4FE+USB+WiFi
HG8247  2POTS+4GE+USB+CATV+WiFi
HG8321  1POTS+2FE
HG8326r 2POTS+1FE+WIFI
HG8340m       4FE
HG8342  2POTS+4FE
HG8342M       2POTS+4FE
HG8342R        2POTS+4FE
HG8345r 4FE+WIFI
HG8346R        2POTS+4FE+USB+WiFi
HG8247r 2POTS+1GE+3FE+USB+WiFi
HG8447  4POTS+4GE+USB+CATV+WiFi
HG8247H5 FTTH Product Application
Sorry, no attachment available !