Description
Inquiry
Attachment
Description
ZXHN F670L V9.0 FTTH is an optical terminal unit wih 4*GE+1*POTS+2*USB+2.4G/5G WIFI, 4*5dBi antennas
ZXHN F670L V9.0 FTTH Product Overview
ZXHN F670L V9.0 FTTH is an AC1200 dual band Gigabit Premium triple-play GPON gateway. It comes with 4GE LAN ports, one phone port and next generation multi-stream Wi-Fi, operating simultaneously in 2.4GHz 2×2 over 802.11n and 5GHz 2×2 over 802.11ac. Based on customer requirements, the maximum 5dBi gain antennas can enhance the Wi-Fi coverage area and improve the performance
ZXHN F670L V9.0 FTTH Product Product Pictures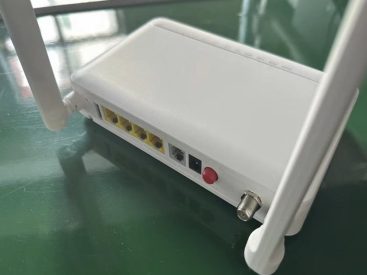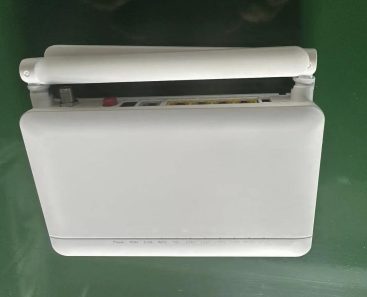 ZXHN F670L V9.0 FTTH Product Specifications
Item
F670L V9.0
Pon Type
GPON
Connector
SC/UPC
Ports
4*GE+1*POTS+2*USB+2.4G/5G WIFI 5dBi
Working environment
Operating temperature: 0ºC to 40ºC Environment humidity: 5% to 95%
System power supply
12 V DC, 1.5 A
Dimensions (length x width x height)
245mm x 215mm x 40mm
Weight
About 0.5kg
LEDs
Power, PON, LOS, WPS, LAN1, LAN2, LAN3, LAN4, TEL, WLAN, USB
Antenna
4* 5dBi External antennas
Interface
4*RJ-45 ports for GE
1*SC/UPC connector for GPON interface
1*RJ11 ports for VoIP
Buttons
Power On/Off
WPS
Reset
Wi-Fi
WiFi
Frequency: 2.4 GHz, 5GHz
IEEE 802.11a/n/ac Wi-Fi @ 5GHz(2×2)
IEEE 802.11b/g/n Wi-Fi @ 2.4GHz(2×2)
WPA/WPA2 Security
Up to four broadcast/hidden SSIDs for each band
ZXHN F670L V9.0 FTTH Product Features
F670L V9.0 supports 802.11b/g/n Wi-Fi @2.4GHz(2×2) and 802.11a/n/ac Wi-Fi @5GHz(2×2) in Dual-Band concurrent Wi-Fi mode so that its Wi-Fi speed can reach up to 1.2Gbps, consisting of 300Mbps (802.11n 2×2 @ 2.4GHz) and 866Mbps (802.11ac 2×2 @5GHz).
With support for lPv4/IPv6 Dual Stack, F67OL V9.0 helps operators and end users to achieve future-proof network with smooth evolution.
The dual image ensures uninterrupted services during software download or upgrade, thereby enhancing software reliability. The highly reliable lightning protection design provides lightning and surge protection of 4 kV for the adapter, 1.5 kV for the POTS port, and 1.5 kV for the Ethernet ports.
QoS features of the F67OL V9.0 enable service providers to design QoS policies and prioritize mission-critical services such as IPTV and VoIP freely based on their individual service plans. So, service providers could deliver reaI multi-play applications to users and increase network efficiency.
F67OL V9.0 can be managed by two ways: one is complete OMCI complying with ITU-T G.988, the other is OMCI plusTR-069 complying with BBF TR-142 framework. Service providers can choose their preferred ways to manage the device.
ZXHN F670L V9.0 FTTH Product and More Models
F601  GPON ONT, 1 LAN English Firmware
F612  GPON ONT, 2 L AN+VOICE English Firmware SIP
F600  GPON ONT, 4 L AN English Firmware
F620  GPON ONT, 4 L AN+2VOICE English Firmware SIP
F620G  GPON ONT, 4 GE+2VOICE English Firmware SIP
F660  GPON ONT, 4 L AN+ 2VOICE+WlFI+USB English Firmware SIP
F660  GPON ONT, 4 GE+2VOlCE+WlFI+USB English Firmware SIP
F660  GPON ONT, 1 GE+3FE+2VOlCE+WlFI+USB English Firmware SIP
F625  GPON ONT, 4 LAN+2VOICE+RF(CATV) English Firmware SIP
F668  GPON ONT, 4 L AN+2VOICE+RF(CATV) +WlFI English Firmware SIP
ZTE ZXHN F663NV3a FTTH 1GE+3FE LAN port + 2.4G WIFI English Firmware
ZTE ZXHN F663NV9 FTTH 2GE+2FE LAN port + 2.4G WIFI English Firmware
F670L GPON ONU 4GE+1tel +USB+WIFI dual band ac wifi 2.4G &5G
F680 GPON ONU GPON 4GE+1TEL+2.4G&5.0G WIFI+2USB
ZXHN F670L V9.0 FTTH Product Applications