Description
Inquiry
Attachment
Description
HG6201M ONU is 1GE port 3FE port 1POTS and 1USB with WIFI 2.4G Internal antenna. It is used together with the OLT equipment to make up a GPON system and access multiple services for the clients.
| | | | | | |
| --- | --- | --- | --- | --- | --- |
| Model | LAN | Telephone | WIFI | PPPOE | FIRMWARE |
| HG6201M | 1GE+3FE | 1POTS | 2.4G | SUPPORT | ENGLISH |
HG6201M ONU ONU Product Overview
HG6201M ONU gives GPON interface to connect OLT with an ODN. It offers a new choice for operators to deliver FTTH access. Fiberhome HG6201M ONU is a GPON Optical Network Terminal designed for HGU (Home Gateway Unit) used in FTTH scenario, which supports L3 function to help subscriber build an intelligent home network.
HG6201M ONU Product Pictures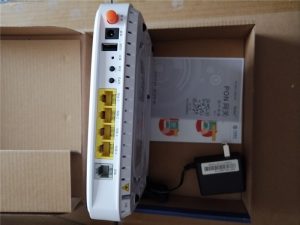 HG6201M ONU Product Specifications
Brand
Fiberhome
Model
HG6201M
Ports
1GE+3FE+1POT1USB+Wi-Fi
Dimensions (H x W x D)
22*15*3 cm
Weight
0.45kgs
Operating temperature
0°C to +40°C
Operating humidity
5% RH to 95% RH (non-condensing)
Power adapter input
100–240 V AC, 50–60 Hz
System power supply
11–14 V DC, 0.5 A
Static power consumption
7.5 W
Maximum power consumption
18 W
Indicators
POWER/PON/LOS/LAN/TEL/USB
/WLAN/WPS/CATV
HG6201M ONU Product Features
Provide large-capacity GPON transmission bandwidth: supports 2.5 Gbit/s for the downlink rate and 1.25 Gbit/s for the uplink rate.
Support the DBA (Dynamic Bandwidth Allocation) algorithm.
Support long-haul transmission. The maximum transmission distance can reach 20 km. 104
Provides Wi-Fi wireless access based on IEEE 802.11 a/b/g/n/ac to set up safe and reliable wireless network for users.
Compatible with IEEE 802.11 a/b/g/n/ac and passed Wi-Fi Alliance authentication, with good compatibility with other WLAN devices.
Support eight SSIDs (four SSIDs for the 2.4 GHz band and another four SSIDs for the 5 GHz band) so that users can set different wireless networks as needed.
Support multiple authentications and encryption modes to provide users with safe and reliable wireless access mode.
HG6201M ONU and more Models
AN5506-01-A 1*GE
AN5506-04-A 4*FE/GE
AN5506-02-B 1GE+1FE+1POTS(2GE+1POTS)
AN5506-04-B 4*FE/GE+2*POTS
AN5506-02-D 1*GE+1*FE+WiFi
AN5506-04-D 4*GE+WiFi
AN5506-02-F 1GE+1FE+1POTS+WiFi
AN5506-04-F 4*GE+2*POTS+ WiFi
AN5506-04-FA 4*GE+2*POTS+ WiFi
AN5506-04-FAT 4*GE+2*POTS+ WiFi
HG6201M 1GE*+3FE+1POT+1USB+WIFI
HG6201M ONU Product Applications
Sorry, no attachment available !