Description
Inquiry
Attachment
Description
Huawei S5720SV2-28P-LI-AC Switch is simplified Gigabit Ethernet switch with24 Ethernet 10/100/1000Base-T ports, 4 Gig SFP ports AC power supply Forwarding performance: 51Mpps and Switching Capacity: 336Gbit/s
Huawei S5720SV2-28P-LI-AC Switch Product Overview
Huawei S5720SV2-28P-LI-AC Switch is simplified Gigabit Ethernet switch with24 Ethernet 10/100/1000Base-T ports, 4 Gig SFP ports AC power supply Forwarding performance: 51Mpps and Switching Capacity: 336Gbit/s. Building on next-generation, high performance hardware and Huawei Versatile Routing Platform (VRP), S5720SV2-28P-LI-AC supports intelligent stack (iStack), flexible Ethernet networking, and diversified security control. It provides customers with an energy-saving, easy-to-manage, easy-to-expand, and cost-effective gigabit to the desktop solution. Additionally, Huawei customizesspecialized models to meet customer requirements in special scenarios.
Huawei S5720SV2-28P-LI-AC Switch Product Pictures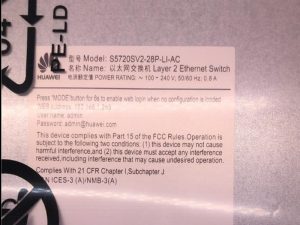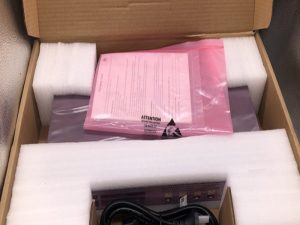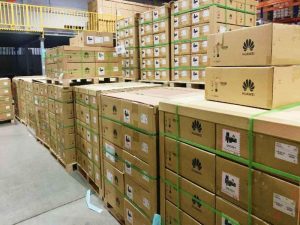 Huawei S5720SV2-28P-LI-AC Switch Product Specifications
Brand
Huawei
Model
S5720SV2-28P-LI-AC
Memory (RAM)
512 MB
Flash
240 MB
Mean time between failures (MTBF)
45 years
Mean time to repair (MTTR)
2 hours
Availability
> 0.99999
Service port surge protection
Common mode: ±7 kV
Power supply surge protection
±6 kV in differential mode, ±6 kV in common mode
Dimensions (W x D x H)
442.0 mm x 220.0 mm x 43.6 mm (17.4 in. x 8.7 in. x 1.72 in.)
Weight (including packaging materials)
3 kg (6.62 lb)
Stack ports
Twenty-four 10/100/1000BASE-T ports and four 1000BASE-X ports
RTC
Not supported
RPS
Not supported
PoE
Not supported
Rated voltage range
100 V AC to 240 V AC, 50/60 Hz
Maximum voltage range
90 V AC to 264 V AC, 47 Hz to 63 Hz
Maximum power consumption (100% throughput)
20.2 W
Typical power consumption (30% of traffic load)
Tested according to ATIS standard
EEE enabled
No PoE power consumption
16.1 W
Storage temperature
-40°C to +70°C (-40°F to +158°F)
Noise under normal temperature (27°C, sound power)
Noise-free (no fans)
Relative humidity
5% to 95%, noncondensing
Operating altitude
0-5000 m (0-16404 ft.)
Huawei S5720SV2-28P-LI-AC Switch Product Features
Huawei S5720SV2-28P-LI-AC Switch provides telemetry technology to collect device data in real time and send the data to Huawei campus network analyzer CampusInsight. The CampusInsight analyzes network data based on the intelligent fault identification algorithm, accurately displays the real-time network status, effectively demarcates and locates faults in a timely manner, and identifies network problems that affect user experience, accurately guaranteeing user experience.
Huawei S5720SV2-28P-LI-AC Switch supports a variety of intelligent O&M features for audio and video services, including the enhanced Media Delivery Index (eMDI). With this eDMI function, the switch can function as a monitored node to periodically conduct statistics and report audio and video service indicators to the CampusInsight platform. In this way, the CampusInsight platform can quickly demarcate audio and video service quality faults based on the results of multiple monitored nodes
Huawei S5720SV2-28P-LI-AC Switch supports intelligent stack (iStack). This technology combines multiple switches into a logical switch. Member switches in a stack implement redundancy backup to improve device reliability and use inter-device link aggregation to improve link reliability.
Huawei S5720SV2-28P-LI-AC Switch and More S5720S models
Huawei S5720SV2-28P-LI-AC Switch Product Applications
Sorry, no attachment available !