Description
Inquiry
Attachment
Description
DAC QSFP-40G-CU7M high-speed cable offers low power consumption and low latency, making it an ideal solution for short-distance transmission (up to 7m) between data center racks, and can effectively save costs compared to a combination of modules and patch cords
DAC QSFP-40G-CU7M Product Overview
DAC QSFP-40G-CU7M is a Cisco, Huawei compatible direct-attach copper QSFP+ cable, which is designed, programmed and tested to work with brand compatible switches and routers and complies with MSA industry standards.
This passive Twinax copper cable supports 40 Gigabit Ethernet applications connected through QSFP+ (Mini-GBIC) ports. This copper QSFP+ cable is hot-swappable, making upgrades and replacements seamless by minimizing network disruptions.
Designed for high-speed performance, this low-power, low-latency QSFP+ cable is a cost-effective alternative to fiber-optic cable assemblies, supporting short-distance applications such as point-to-point in-rack network switch or server connections.
DAC QSFP-40G-CU7M Product Pictures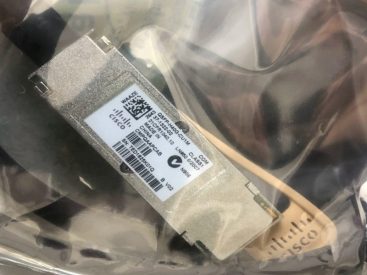 DAC QSFP-40G-CU7M Product Specifications
| | |
| --- | --- |
| Item | Description |
| Model | QSFP-4SFP10G-CU7M |
| Connector Type | QSFP+ to 4 SFP+ |
| Max Data Rate | 40Gbps |
| Minimum Bend Radius | 30mm |
| Wire AWG | 26AWG |
| Cable Length | 7m(22.96ft) |
| Jacket Material | PVC (OFNR) |
| Temperature | 0 to 70°C (32 to 158°F) |
| Protocols | 40G InfiniBand 8x DDR, 4x QDR, 10G/40Gigabit Ethernet, Fibre Channel |
DAC QSFP-40G-CU7M Product Features
Compliant with SFF- 8436
Up to 10.3125Gbps data rate per channel
Up to 7m transmission
Single 3.3V power supply
RoHS compliant
Commercial temperature range(COM): 0 to 70°C
Low power consumption: less than 0.1W
High-Density QSFP 38-PIN Connector
40 Gigabit Ethernet
Fiber Channel over Ethernet
DAC QSFP-40G-CU7M Product and More DAC Cables
| | | | | |
| --- | --- | --- | --- | --- |
| Model | Length | Electrical attribute | Bend Radius | Connector Type |
| SFP-10G-CU1M | 1 m | Passive | 25 mm | SFP+ to SFP+ |
| SFP-10G-CU2M | 2 m | Passive | 25 mm | SFP+ to SFP+ |
| SFP-10G-CU3M | 3 m | Passive | 25 mm | SFP+ to SFP+ |
| SFP-10G-CU5M | 5 m | Passive | 30 mm | SFP+ to SFP+ |
| SFP-10G-AC10M | 10 m | Active | 25 mm | SFP+ to SFP+ |
| QSFP-40G-CU1M | 1 m | Passive | 35 mm | QSFP+ to QSFP+ |
| QSFP-40G-CU3M | 3 m | Passive | 40 mm | QSFP+ to QSFP+ |
| QSFP-40G-CU5M | 5 m | Passive | 45 mm | QSFP+ to QSFP+ |
| QSFP-4SFP10G-CU1M | 1 m | Passive | 25 mm | QSFP+ to 4*SFP+ |
| QSFP-4SFP10G-CU3M | 3 m | Passive | 25 mm | QSFP+ to 4*SFP+ |
| QSFP-4SFP10G-CU5M | 5 m | Passive | 30 mm | QSFP+ to 4*SFP+ |
| QSFP28-100G-CU1M | 1 m | Passive | 70 mm | QSFP28 to QSFP28 |
| QSFP28-100G-CU3M | 3 m | Passive | 70 mm | QSFP28 to QSFP28 |
| QSFP28-100G-CU5M | 5 m | Passive | 70 mm | QSFP28 to QSFP28 |
| SFP-25G-CU1M | 1 m | Passive | 35 mm | SFP28 to SFP28 |
| SFP-25G-CU3M | 3 m | Passive | 35 mm | SFP28 to SFP28 |
| SFP-25G-CU3M-N | 3 m | Passive | 40 mm | SFP28 to SFP28 |
| SFP-25G-CU5M | 5 m | Passive | 40 mm | SFP28 to SFP28 |
DAC QSFP-40G-CU7M Product Applications